Press Release:
Celebrating 20 Years of Erickson as an ICF Accredited Coaching Company
Vancouver, September 2023- In a world seeking connection and growth, coaching has emerged
as a powerful force that leads to both. For the past four decades, Erickson Coaching International has been at the forefront of this transformative industry, making a significant impact on individuals, businesses, and society as a whole. As they celebrate their 20th year of accreditation with the International Coaching Federation (ICF), Erickson Coaching International proudly reflects on their journey and looks forward to continuing their mission of empowering and inspiring change around the globe; changing the world one conversation at a time.
Advancing Paths and Horizons: 20 Years of Excellence with the ICF
Since its inception in 1980, Erickson Coaching International has grown to become a global powerhouse with a presence in various corners of the world. Through their dedication to developing coaching professionals and instilling coaching cultures in organizations, they have played a role in transforming societies and supporting the work the ICF has done to lead global advancement of coaching through rigorous standards and credentialing.
CEO of the ICF, Magdalena Mook said, "It is rewarding to see how the field of coaching continues to evolve to better serve the needs of its diverse stakeholders. Coaching education is at the very forefront of quality, excellence and awareness-building. We are proud of this long-lasting relationship with Erickson, empowering the world through coaching!"
Within the 20-year-long journey with the ICF, Erickson Coaching International has built a close-knit global community of over 55,000 coaching professionals. Their sustained success is a testament to the wisdom gained through experiences and the collaborative spirit of their community members. Through their partnership with the ICF, they have reached new heights beyond their flagship program: The Art and Science of Coaching Level 1 and 2, setting a new standard for excellence in the coaching profession. Recent developments from Erickson Coaching International include the launch of a Team Coaching Certification, which is an official AATC pathway with the ICF, the development of a 'Pathway to MCC' program and the launch of an alumni app, Erickson+.
The rewards of helping others are beyond compare, and the Erickson Coaches take immense pride in the positive impact they create in people's lives, through powerful questioning and other solution-focused coaching tools. In over 60 countries and across every coaching niche, they remain committed to unlocking and empowering the true potential of individuals, businesses, and teams, driving them towards success and fulfillment.
Erickson Coaching International has stood the test of time as a leading force in transformation, facilitating profound changes that resonate with individuals and organizations alike.
Erickson CEO, Louise Hendey said, "The past 20 years have been a remarkable journey of growth, collaboration, and transformation. Coaching has moved beyond being a profession; it is a movement that is shaping the present and future of individuals, organizations, and societies worldwide. As we celebrate Erickson Coaching International's 20 years of ICF accreditation, we extend our heartfelt gratitude to every individual who has contributed to this journey. Together, let us continue to embrace the possibilities, empower change, and illuminate the path to a brighter, coaching-infused world."
A Global Community: 5 Scholarship Announced
As they celebrate 20 years of being ICF accredited, Erickson Coaching International invites all those seeking personal growth, professional development, and positive change to join their vast global community. Embrace the power of coaching and become a part of a movement that has been transforming lives for four decades.
Erickson has announced five online scholarship opportunities for individuals seeking to become professional coaches. Anyone wishing to apply should fill out the form HERE before September 1, 2023.
To learn more about Erickson Coaching International and their transformative journey over the past 20 years, visit erickson.edu.
Join the Celebrations and Embrace Transformation
Erickson Coaching International invites individuals, businesses, and coaching professionals from around the globe to join in celebrating their 20-year milestone with the ICF. The celebrations include a panel discussion, titled "20 Years of Transformation," which will delve into the evolution of coaching, its impact on individuals and society, and provide a glimpse into the future of this transformative practice.
The panel will comprise a select group of accomplished coaches, recognized for their expertise and contributions to the field, and includes ICF CEO, Magdalena Mook, ICF Global Chair, Dumi Magadlela, Erickson Executive Board Member, Dr Zerrin Baser, and the founder of Erickson Coaching International, Marilyn Atkinson.
Event Details
Date: September 6th
Time: 8 am PST
Duration: 45-60 minutes
Format: Online (virtual event)
Link to join: HERE
Additionally, Erickson is extending an invitation to the global community to participate in the online #20yearsoftransformation challenge. Individuals are encouraged to follow the hashtag and participate by posting a photo of themselves from 20 years ago next to a recent photo. This fun and engaging challenge is a starting point for conversations around personal and professional development and transformation.
About Erickson Coaching International:
Launched in 1980 by clinical psychologist Marilyn Atkinson, Erickson has trained over 55,000+ professional coaches and is represented in over 85 countries.
Since its inception, Erickson has pioneered transformational change in individuals and organizations using a methodology of coaching techniques informed by neuroscience that are action-based and future-focused. Above all, Erickson is committed to empowering people by placing emphasis on solutions rather than problems. With a strong track record of implementing long lasting positive change in Fortune 500 companies such as SAP and Google, Erickson has earned a reputation as one of the most recognized human development institutes in the world.
For media inquiries, please contact:
Head of Marketing & Communication
Frances Litten
frances@erickson.edu
Marketing Assistant
Chelsea Frank
chelsea@erickson.edu
- End of Press Release -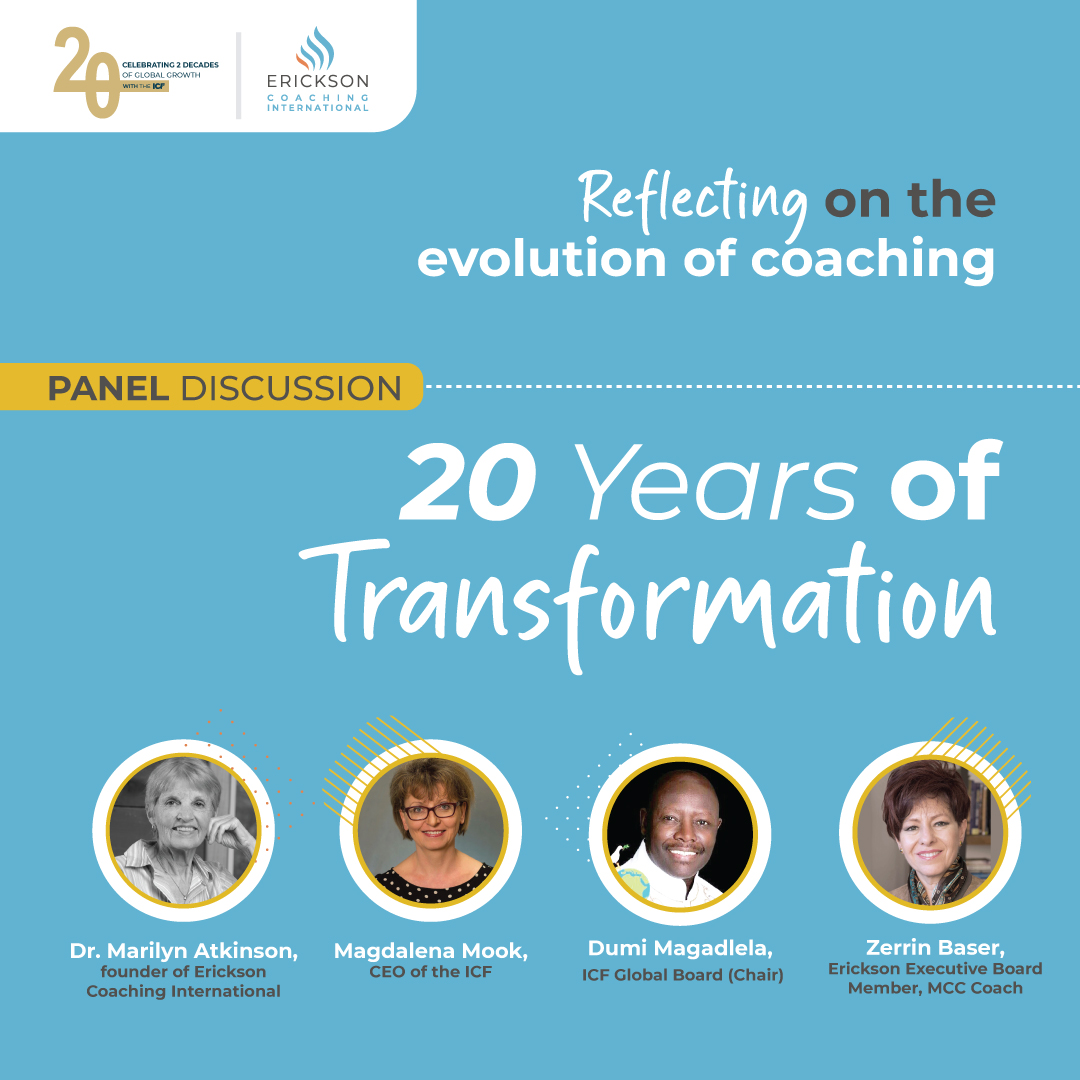 Become Part of the Experience